ABOUT CONTINGENCY
" Hi Boss…..I'm sorry I can't come into the office today as I'm stuck in the Himalayas!"
If this is you making the above phone call, then you most certainly wouldn't be the first, and hopefully your boss is understanding and sympathetic to the fact that you've not returned from your holiday time off work.
Of course, the above also means that you've missed your international flights home, and if you bought the cheapest option, chances are that your international airline will charge you a significant additional amount to change to the next available flight.
Poor "Kitty Kitty" is still in the cattery and now costing you even more.
Oh, your car parked at the airport is now costing you more, as are any other additional things that you'd booked on the assumption that you'd be back home on time. Hopefully, you've been smart enough to insure yourself for such possibilities and additional costs.
Can you completely avoid the above scenario? No….not entirely. Any travel plan, whether it's a seemingly straightforward journey in your own country or an adventurous one in Nepal or Bhutan, can end up not going according to plan.
Any visit to Nepal or Bhutan, whether it's a high-altitude trek or an overland cultural tour, should always be regarded as ADVENTURE TRAVEL and it is impossible to predict whether any itinerary will operate according to plan.
This unpredictability also means that the itineraries that we put forward for your holidays should be seen as statements of intent rather than as contractual obligations. We cannot be held responsible for the results of changes or delays and any additional costs that arise as a result, irrespective of how they are caused. (Extract from your booking contract.)

Whether you're undertaking a challenging high-altitude trek in the Himalayas or a seemingly straight-forward cultural tour, things can and do happen that will have undesirable consequences.

Your itinerary might look OK "on paper", but have you thought about "what if?"

Contingency planning is a way of managing and anticipating the "what if" factor. No one has the gift of hindsight, but a little foresight can make all the difference.

Let's be clear. You're not booking a "join a group fixed itinerary", you're booking a totally private trip, one that is customised according to your wishes. That's the whole point of going "custom".

The decision to book a private trip is yours.

The decision as to whether you want to include additional CONTINGENCY is ultimately yours too.

Because your custom itinerary is mostly likely unique to you (we've never operated an identical itinerary yet), you really need to talk to us about contingencies that would be SPECIFIC to your itinerary.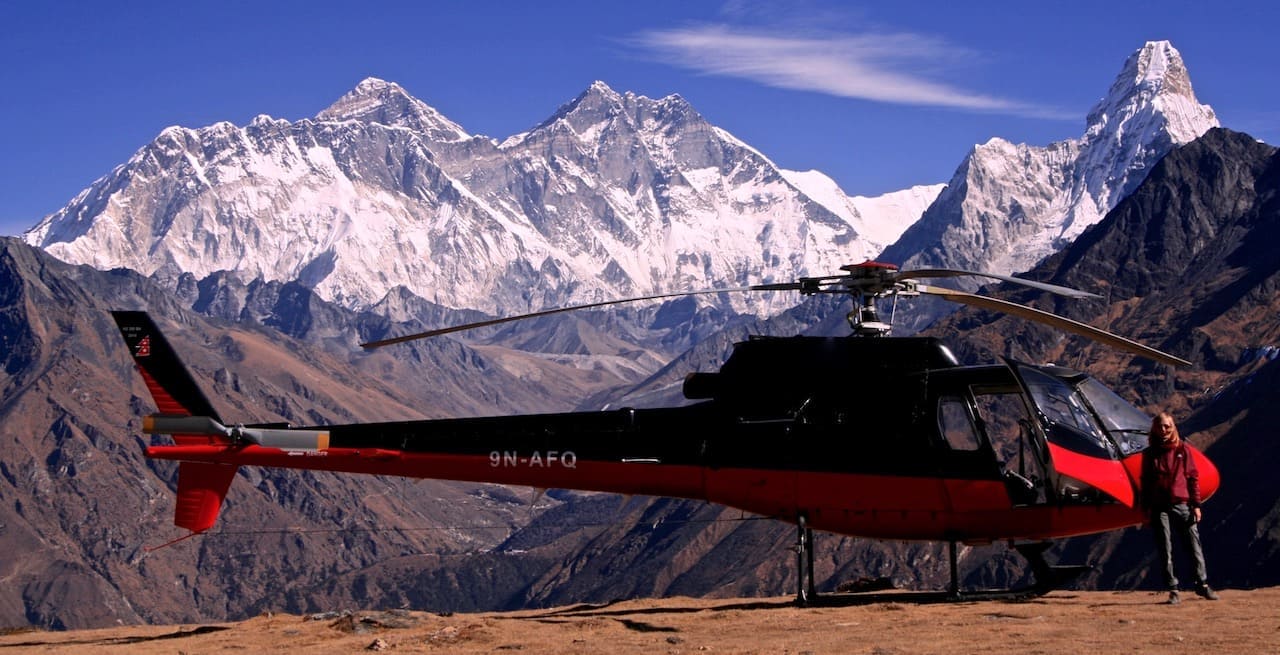 It's around $5,000 to charter a helicopter for a non-emergency......contingency will be much, much less!

Most people have varying attitudes towards risk, and the topic of contingency is a complex one as it involves many "what ifs.". The dynamics of certain communications, e.g., email, text, etc., don't lend themselves well to the matter of contingency discussion.
Contingency is something that you really need to speak to us about…..and we mean speak as in a verbal conversation on the phone.

We're experienced trekkers and travellers ourselves. Pretty much anything and everything that can go wrong, from a serious medical emergency to a landslide blocking a road, has happened to us at some point and, at times, to our clients too. Over the past 30 years, we've probably encountered most things. Thankfully, most are pretty minor.

It would be exhaustive to list all things that could lead to the need for contingency, but here are a few examples:
Flight delays/cancellations
We'll use the Everest Base Camp Trek as an example here. But, this real scenario could equally apply to any trek or tour that involves a flight as part of the itinerary, especially one that is considered a "mountain flight," e.g., Lukla, Jomsom, Taplejung, Juphal, and Simikot.
Flights are entirely weather-dependent and, as such, "fly by sight. To take off, navigate, and land, the pilot needs to see. You really wouldn't want to land somewhere like Lukla, where the short runway is on a cliff edge, if the pilot couldn't see to land or take off. It's scary enough, as it has good visibility.
All it takes are clouds—a natural phenomenon after all, especially in mountainous areas and the visibility is gone. All flights TO and FROM Lukla are then cancelled.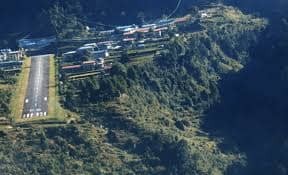 Lukla Airstrip on final approach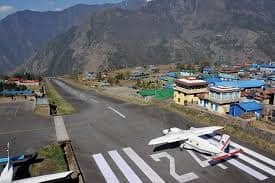 Lukla Airport on a clear day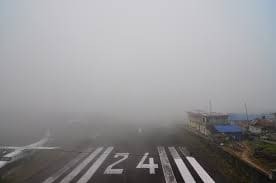 Lukla Airport on a bad weather day
People waiting to go on treks are stuck in Kathmandu, and people finishing their treks are stuck in Lukla.
This 40-minute flight that your itinerary was reliant upon actually cut out the "old way" of a full day's drive from Kathmandu to Jiri and then several days of trekking up to (or down from) Lukla.
So, you're well and truly stuck, and the consequences are that:
A) If you're stuck in Lukla, you don't get back to Kathmandu in time and miss your international flight home
B) If you're stuck in Kathmandu, you may no longer have enough days to make that dream of trekking to Everest Base Camp a reality.
With contingency, you just might be able to manage this scenario without serious inconvenience.
Bad Weather
The Himalayas are the highest mountains in the world. Mountain weather is notoriously unpredictable, and sudden, violent storms are ALWAYS a possibility.
A trek may involve crossing a high mountain pass (or indeed several), or terrain that becomes treacherous in bad weather.
A high mountain pass is often the "crux" of treks, whether it be the Thorung La on the Annapurna Circuit, the Larkya La on the Manaslu Circuit, the Cho La in the Everest region, or the French Pass on the Dhaulagiri Circuit.
Bad weather can make these passes too dangerous, or in some instances be snowbound….blocked. It's the Himalayas…..it happens every now and again.

If you've got some contigency you too might feel relaxed if things don't go according to plan

With contingency, you might be able to "ride it out" and continue; otherwise, you may not have enough time to complete the trek and have no choice but to turn around.
Bad weather can also cause road blockages. Landslides after heavy rain, for example, So, even a general cultural tour is at risk in bad weather. Nepal and Bhutan have so few roads that a detour isn't always a possibility.
Illness
We're not talking about a medical emergency here. That has more serious consequences (usually Helicopter evacuation). But, we're all humans, and we all get sick.
Everyone has suffered from a "common cold", which is why it's referred to as "common". But, it's a good example to use, as you know just how ill you feel.
If you're trekking, then usually "on foot" is the only way to get around, and we're talking Himalayas here, so getting around on foot is invariably physically challenging. If you're "under the weather," then the prospect of a physically challenging day isn't most likely one that will have you jumping out of your sleeping bag with joy.
Exhausted
It could be that you're exhausted because of something like a "common cold", or that the trek you chose is taking its toll on your own physical capabilities.
Unless you're one of our Snow Cat Travel Guides, it's highly unlikely that you are hiking in the mountains each and every day. OK, you might do some challenging mountain walks at home at weekends, take the dog out a couple of times every day etc….but, continuously walking in the Himalayas each and every day continuously…..it's probably not something you do regularly.
But, that's what a trek is…..continuous (often challenging) walking every day.
As it's your own private trip, consider adding in a rest day or two. It can make the difference between a trek being enjoyable or feeling like a punishment, or having to ride on the back of a Yak.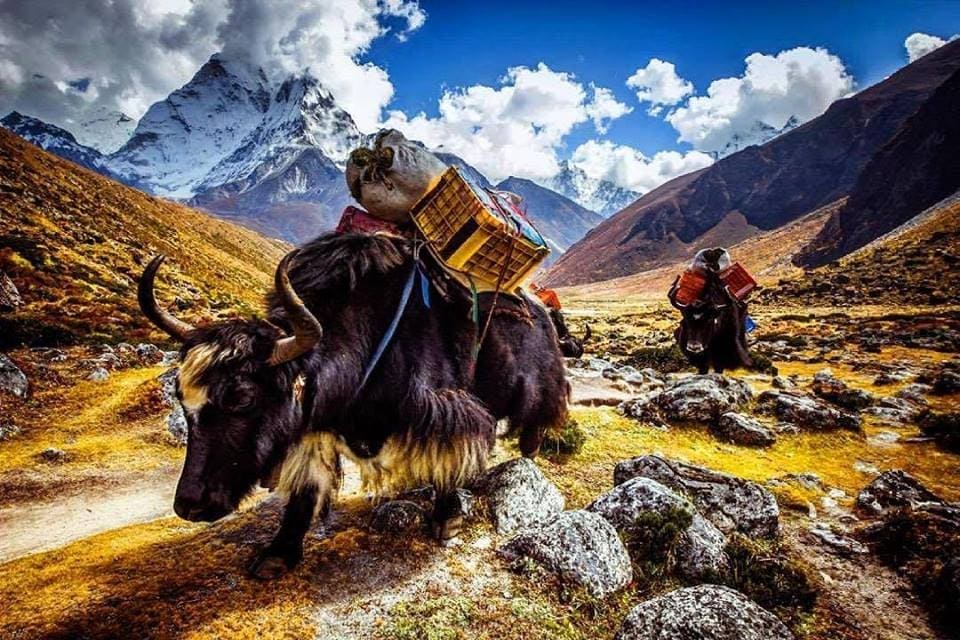 Yaks may well be photogenic, but the pack animal of the high Himalayas is very uncomfortable to ride on

Minor injuries
Again, we're not talking about something that would require evacuation. But in the Himalayas, where you are completely reliant upon your own physical capabilities, a minor injury (e.g., a badly sprained ankle) can often mean you're no longer able to continue. Such an instance is a "game over" scenario, and that's that.
However, let's say (for example) it was something like a badly stubbed toe, a slight twisted ankle, a blister even... something that wouldn't mean "game over" if there was some additional contingency and where a day of resting up made all the difference between being able to carry on or at least increasing the chances of being able to carry on and complete the trek. It's highly unlikely that, in a non-medical emergency, your travel insurers will be willing to pay for a helicopter rescue, and being carried back may be the only option.
There are, of course, all manner of things that can happen as part of any adventure in Nepal or Bhutan and cause plans to go wrong. Not just the above, we've used these just for illustration.
But, generally, these are things that we and you have no control over. They are part and parcel of any adventure in Nepal and Bhutan.
Acclimatisation Days
If your customisable itinerary indicates acclimatisation days, these should not be considered as contingency. These are days to allow your body to acclimatise and to "skip" an acclimatisation day to make up time and thus proceed to even higher altitudes is not a good idea. For the avoidance of doubt if your customisable itinerary indicates acclimatisation days, these are not negotiable and will be the generally accepted minimum for a particular trek. Indeed as your trek is private and customisable you should give serious consideration to additional acclimatisation.
For more about altitude see- Preparing for a Trek & Altitude
How much contingency will you need?
At best, contingency can only be an "informed guess", after all contingency is planning ahead for the unexpected and for something that might not actually happen at all!
There's also the "it depends" factor too. It depends how adventurous your trek is for example. There's a big difference risk wise between something like the Dhaulagiri Circuit and a short trek in the Annapurna foothills.
Treks that involve mountain flights, high passes etc certainly warrant serious consideration for additional contingency. Lukla Airstrip (all Everest Treks) in particular is notorious (infamous) for flight cancellations.
But it also depends on your own attitude towards risk and contingency too.
ONE CONTINGENCY DAY (or more) CAN MAKE ALL THE DIFFERENCE
We can advise and we openly invite you to speak with us and have a conversation about contingency that is specific to your own itinerary.

Ultimately the decision as to whether you include or exclude additional contingency is yours.

IMPORTANT-Check your travel insurance as to what levels of cover it provides you with in this respect.